Acupuncture for Healing & Recovery Support
In traditional medical practices, acupuncture is often used as a way to promote the healing process through the renewal of balance and energy throughout the body. 
This old form of medical treatment is grounded in the philosophy that illness is caused by an imbalance in the vital energies of the body. In a modern sense, acupuncture can help your pet to recover from illness or injury by stimulating blood flow and oxygenation in their tissues.
At Phoenix Veterinary Referral & Emergency Center, our Dr. Bauman is able to provide therapeutic acupuncture treatments to your pet in tandem with other treatments and therapies in order to stimulate your pet's natural healing processes and encourage the success of their recovery from injury, trauma or illness.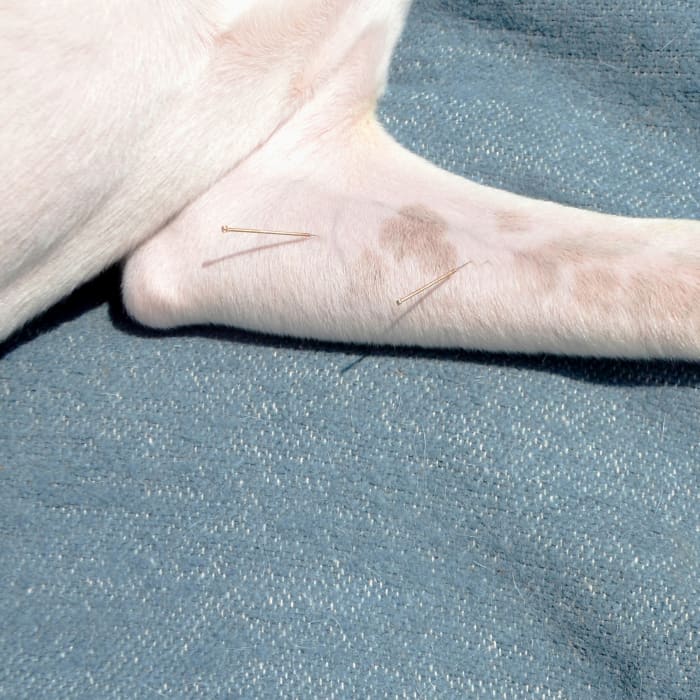 The Acupuncture Technique
The acupuncture process involves the insertion of small needles into an animal's body at exact points, called meridians, where blood vessels converge with your pet's nerves.
The needles help guide your pet's vital energy along these meridians (or rather, support your companion's nervous system and promote their circulation) in order to enhance their body's existing healing abilities. 
Common Acupuncture Uses
Our veterinary specialist will often recommend the use of acupuncture or other kinds of traditional medical techniques, including:
Treatable Conditions with Acupuncture
The Benefits
Acupuncture for pets provides a number of benefits, including:
Pets in poor health will benefit from the lack of systemic side effects
Lowers the amount of waste products produced
Helps relax muscles and relieve pain
Improves metabolic waste removal from the body
Promotes an increased blood flow which boosts oxygen in tissues
Our Acupuncture Specialist
Dr. Jenny Bauman is responsible for the acupuncture treatments available at Phoenix Veterinary Referral & Emergency Center. She is passionate about providing your cat or dog with pain relief as well as assisting them in their healing process. 
Acupuncture is often conducted in addition to other treatments and therapies, either to help your pet to recover from an invasive procedure as quickly as possible, or to reduce inflammation, promote circulation and encourage mobility.
New Patients Welcome
At Phoenix Veterinary Referral & Emergency Center, we are accepting new patients and referrals for our emergency and specialty services. Our team of experienced veterinary specialists are passionate about the health and well-being of pets in the Phoenix area. Contact us today to inquire about appointments or find out about the referral process.